Sharon Spencer APRN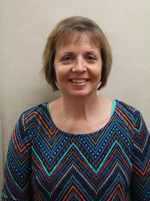 Sharon grew up on a farm outside of Primrose, NE and attended K-12 at St. Anthony's and Cedar Rapids Public Schools in Cedar Rapids, NE.
She received her BSN from Mount Marty College in 1982 and her MSN in Family Nursing from the University of Texas Arlington in 1990. In September 1991 she was Board Certified by the American Nurses Credentialing Center and in May 2015 she joined Elkhorn Valley Family Medicine.
Initially, Sharon practiced in Oregon, but for the past twenty years she has provided care in the O'Neill area. Her interests in medicine inlude: Women's Health, Adolesent Health, and Family Medicine.
Sharon loves spending time with her husband of 31 years - Wendall, and their three children: Sarah, Ella and Logan. She also enjoys reading and traveling. In addition her faith is very important to her and she participates by singing and playing the piano.
Additional certifications include: FMCSA Certified Medical Examiner (DOT exams).